Self-Defense
There are many reasons why people would want to take up self-defense and martial arts classes. But once you make the decision, you will be faced with many different options and questions. What style? How much does it cost? Our self-defense and martial arts guide will help you choose the one that's right for you.
No Martial Arts or Self-Defense Technique is Perfect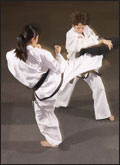 Far too many people who are training in the conventional martial arts or in a "quicky" self-defense program - including police and security personnel by-the-way - take for granted that all they have to do to survive a real-world attack is learn a few tricks and that's it. When, according to the reality and nature of self-defense, no preset, memorized technique that you've learned in a martial arts or self-defense class is perfect in-and-of-itself for the unique situation and circumstances that you will find yourself in when you need it. And...
...that's okay.